iCARE
CHEERS TO
Celebrating the I.R.I.S.H. in those that have an undeniable impact on our youth.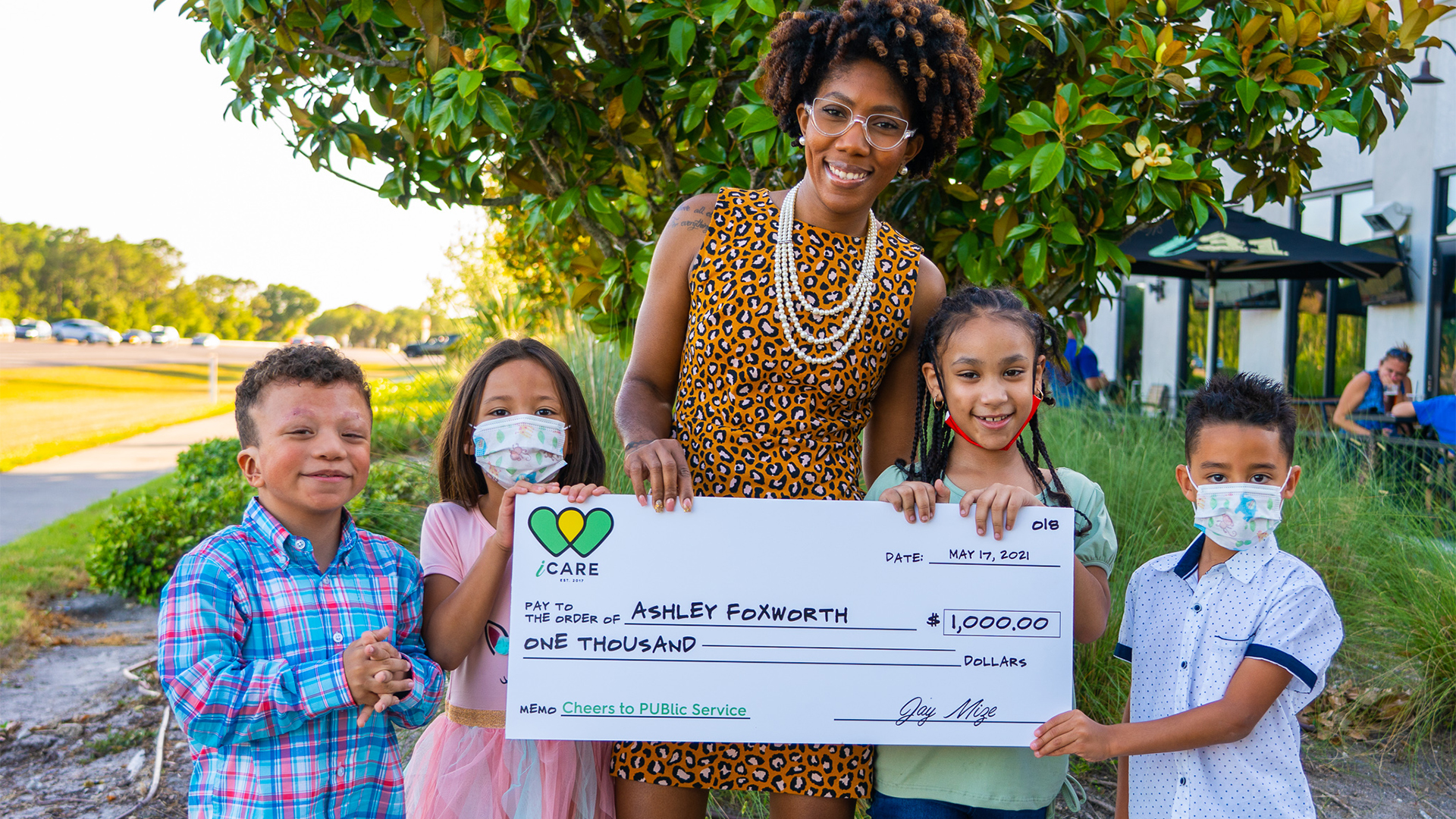 iCARE
CHEERS TO
Celebrating the I.R.I.S.H. in those that have an undeniable impact on our youth.
CONGRATULATIONS
2022 WINNERS!
CONGRATULATIONS to our twenty 2022 Cheers to PUBlic Service Winners and a heartfelt THANK YOU to each and every teacher that was nominated for an award! Every year, it gets more and more difficult to select just twenty winners from so many deserving educators, but we are so grateful to all of the parents, students and colleagues that took the time to tell us about a teacher that has impacted their life, or the life of their loved one, for the better! We look forward to bringing this program to Pinellas and Seminole counties next year, while continuing to expand within our existing districts, so we can celebrate more extraordinary educators each and every cycle.
Brian Behrens – 2nd Grade, Anderson Elementary School
Mr.Behrens is a USF Graduate & has a Master's in Educational Leadership. (He was raised by a single parent. She is very supportive of his work & often volunteers at our school.) I am very proud & honored that he has worked with me since his internship many years ago at Egypt Lake Elem. (I have been a HCPS Principal for 16 yrs.)He has taught most grades & was a Science Resource at the elementary level. He even transferred to middle school with me as a Science Teacher. He commutes from the Brandon area to So Tpa. He has "looped" with his students the past two years (had the same class for First & Second Gr because of parent input). His class won first place for their Science Fair Project "Surviving the Heat"for Second Gr for HCPS. A Pakistan military family wrote a letter singing his praises, recommending him to other families in Pakistan. A student needed glasses, he made arrangements to have the student tested, picked up the glasses(because the parent didn't have transportation), sent a pair of glasses home & a pair to remaIn at school. He moves each student academically.His classroom culture is beautiful! He is our HCPS Teacher of the Year voted by his peers. He serves as our School Improvement Committee Chair, Science Contact, Sponsor of our Inaugural National Elementary Honor Society, Humana Go 365 Chair & is a Teacher Leader on our campus. He is always professional & is a highly effective teacher. He is an asset to Anderson Elem & HCPS. He is I.R.I.S.H!
Jennifer Butler – 8th Grade, Greco Middle School
Jen has been a teacher for the past 25 years educating our youth at several Title 1 schools throughout the Tampa area. When we first met about 6 years ago, she blew me away with stories on the curriculum she was teaching middle school kids to keep them engaged. For example, she was teaching AutoCAD, a drawing program for architecture and design that I use daily in my field of interior design, as a means for the kids to gain drafting skills, to understand geometry and form/function, and to hone their math skills. She has a larger than life personality and a unique way of keeping kids engagement. During the pandemic and online learning, she would let her classroom vote weekly on the next TikTok dance she would have to learn as a reward for attending the online sessions and staying engaged with their work. I am in awe of her out of the box thinking and creativity in the teaching domain. She spent the last two years (whilst in the stress of online teaching) completing her masters in education to be on the path to an administer position so that she can help mold other teachers to be more affective in reaching our kids and be apart of the change she wants to see in our schools. The list of her attributes in serving our public schools goes on and on. I feel she is an exemplary candidate for this recognition.
Mark Fletcher – 8th Grade, Williams Middle Magnet
My husband, Mark Fletcher has been a public servant for 28 years teaching high school & middle school science. Not one year has passed that he has not received at least one note from a student (usually many more) thanking him for the life-changing positive impact he has made on them. More often than not the note comes from a very challenging student most other teachers had deemed a problem. He has no problem students. All his students learn to respect him because he respects them first. They come to trust he is 100% for them. He is all about helping them be successful. He is demanding. He holds them accountable. He teaches them about science & about becoming better humans, too. He has saved every single note & reads them when he needs encouragement or a reminder that it was worth giving up his six-figure engineering career. He felt called to teach. He still feels called to teach. His students are the better for it. Ask them.
Larenz Johnson – 8th Grade, Madison Middle School
Larenz Johnson embodies everything an educator should be: dedicated, hard-working, innovative, and kind. I have worked with Mr. Johnson for many years now, and he never ceases to amaze me and make me want to be a better educator and person.
Madison is a Title 1 school. Some of our students are behind academically, have social voids (especially since COVID), or experience situations some of us cannot imagine. Mr. Johnson meets them where they are and helps them grow academically, socially, and emotionally. His test scores surpass the district average, and he has started a book club for boys who need a little extra mentoring.
Not only is Mr. Johnson phenomenal within the walls of his classroom, but he also coaches track. Through a tough yet kind approach, our boys have won the 200m relay two years in a row at the County track meet.
Mr. Johnson is also a great resource for the adults on campus. He is the 8th grade team leader and serves on the Steering Committee. He helps his team and co-workers through the ups and downs of the school year and mentors teachers through learning effective classroom management techniques so they can be as successful as he is.
Finally, Mr. Johnson is an important part of the community. He is the pastor at New Mt. Zion Baptist Church. He assists his congregation with whatever they need spiritually and emotionally as well.
I truly believe Larenz Johnson embodies the I.R.I.S.H. spirit. We need more educators like him!
Michele Lambert – Leto High School
Dr. Lambert is the best teacher my kids have ever had. She has been my kids' teacher for the past 4 years. She was my daughter's dual enrollment English teacher and is now my son's ENC teacher. She is passionate about the students at Leto High School. You see, Leto is a Tittle one, low income, school where most of the kids are on free lunch. She sees the struggles of our students and goes above and beyond to help them. She comes in before work to tutor kids for ACT and SAT and stays many times after work to help them complete college applications and other things that they do not have the resources or help at home to complete. She is involved in all after school and during school activity to support our kids. She helps her peers with struggling students from other classes and is just a joy to be around. Lastly, she is a single mother with two jobs that finds the time to help her own son, feed our students and help everyone else around. For this and many other reasons, I nominate Dr. Lambert for this award.
Nicole Golden – 2nd/3rd Grades, Hillsborough Virtual K-12
Last school year, as Kindergarten STEM virtual teacher, Nicole credits her Golden Scholars' achievement & successes to the partnership she nurtured with all families. She uniquely crafted a partnership where families are identified as learning coaches. Teaching, learning, & parenting through a pandemic was a new sea of turbulent waves for our community. Her classroom is know as KinderCollege, as she create a safe learning space, where everyone felt like family. She created short video clips to model for parents in how-to-tutorials.
Once her colleagues got wind of the GOLEN partnership happening in "KinderCollege", she"SELFLESS" dropped her "GOLDEN GEMS" on how to create "A Golden, Teacher-Family Partnership", by far on of her best Professional Development!
During the Professional development, discussions of forming a PTA started. Six months later, the first Hillsborough Virtual K12, Parent, Teacher, Student Association (PTSA) was chartered, with Miss Golden as one of the four founding members (the only African-American) & the President. This speaks high volumes, but she would "HUMBLY" say she is letting GOD use her. She is currently vetting parents to lead committees so by the end the school year, parents can lead the organization.
When you think of a true GOLDEN leader, Nicole is Influential, Reliable, Impassioned, Selfless & Humble and embodies these qualities & so many more. To know her, is a blessing, and I thank you for this space to share her story, she inspires me!
Natalia Sutton – 7th Grade, Webb Middle School
In the role of an educator, Natalia is truly a natural. She effortlessly combines an impressive array of skills and values with unmatched patience and understanding to provide outstanding care and support to each of her students. Natalia embodies the role of a teacher, in that she has a way of welcoming people in, encouraging their curiosity, and fueling their excitement all in an unassuming and comforting way that allows the student to be vulnerable and supported. I've seen Natalia express this innate talent in a variety of settings, most notably those in which she isn't even "on the clock". She has a unique talent in proposing a lesson or opportunity to learn without the pressure of an assignment, and her own curiosity and creativity is infectious to those around her. She offers consistent and structured support, treating all of those around her with respect and care. She has a sense for reaching out to those who may be less likely to raise their hand or shout out a question, and in doing so, makes each person feel seen. She is a selfless educator and leader in so many ways, and it seems that each opportunity she has to help someone around her is what energizes her further. Natalia is an incredible teacher, mother, wife, sister, daughter, and friend. Any person lucky enough to know her in any of those roles would certainly agree that she is wholly deserving of this award. It is her warm smile that will draw you in, but it is her heart that will shine the brightest.
Jessica Bedoya – 8th Grade, Martinez Middle School
Ms. Bedoya is the most amazing teacher I have ever had. I grew up in Michigan and was extremely frustrated by 18 months of virtual schooling and fell behind in school. My confidence in my ability to do good in school was so low and I hated school because of the pandemic (7 hours a day of zoom calls plus homework will do that to a kid). My family moved to Florida in 2021 and I enrolled in Martinez Middle School. Because I was so behind in math, I was put in a pre-algebra class with Ms. Bedoya. The start of the year was pretty rocky and I struggled. My low confidence in my school abilities affected every class and my grades were horrible.
Ms. Bedoya would not give up on me. She pulled me in during her lunch and would come in early to help me. Ms. Bedoya would text my mom after she had left school and make sure my mom had whatever she needed to support me at home. She would help keep me on task and focused (something I struggle with). She made sure I knew when tests were and let my mom know too.
Slowly, I began to catch up. Ms. Bedoya would celebrate every success and help me when I struggled. As I caught up in math, I realized my other grades were improving too. Not only was Ms. Bedoya helping me catch up in math but she was also helping me find my own self-worth and regain confidence in my abilities to do good in school.
Now I am more self-sufficient and ended the semester with five A's and two B's. I owe it all to Ms. Bedoya who helped me. #superhero
Hessie Garcia Olmeda – Kindergarten, Westchase Elementary School
Sra. Garcia is an outstanding educator. She is teaching kindergartners in both spanish AND english in the Westchase Dual Language program. Typically, this job should be filled by a two teacher model….one for spanish and one for english – so to say that Sra. Garcia is a rockstar does not come close to accurately describing what she is doing with her classes – she far surpasses rockstar teacher status!! My daughter was in her class the year of the covid shutdown in March. Sra. Garcia did not skip a beat keeping the kids engaged and learning. Westchase's administration has even described Sra. Garcia's classroom as a happy place to go when you need a pick me up since her teaching success is coupled with her kind and fun classroom setting for Dual Language kids.
Beau Heringer – 5th Grade, Westchase Elementary School
Mr. H (as the kids call him) is truly one-of-a-kind. His enthusiasm and zest for life are truly genuine and transfer seamlessly into his teaching style and overall persona at Westchase Elementary. My son had him in 5th grade and Mr. H navigated through the uncertainty of COVID like a champ. He made it a memorable year for the kids, despite not being able to have graduation and other special moments that were accustomed to graduating 5th graders.
Personally, Mr. H understood my son and did everything in his power to help him succeed both scholastically and personally. Throughout the school year, he welcomed texts after school hours when math concepts were daunting or just needed reinforcement by someone other than a parent. For the first time, my son WANTED to go to school because Mr. H made learning fun. He teaches in a way that was truly inspiring for the kids and always went out of his way to make them feel special.
My son's experience was so great that my daughter cannot wait to be in Mr. H's class when she gets into fifth grade. Mr. H deserves recognition for thinking outside of the box and making school memorable for all that have ever stepped foot into his class. Just the other day, a few eighth graders came back to Westchase to celebrate Mr. H's own birthday. Words simply do not adequately express just how wonderful of a teacher he is for Hillsborough County! More than that, he is an incredible human that deserves accolades for all that he has given!
Deborah Steinfeld – 6th Grade, Roland Park K-8 Magnet School
Debbie Steinfeld has been a teacher in Hillsborough County for almost 30 years. She is one of the most incredible humans that I have ever met. I addition to the devotion she shows in the classroom everyday to her 6th grade science students, she is the team leader and mentor to our 6th grade team. She helps guide and mold future teachers who come to intern or do student teaching in her classroom. She is incredible with ESE students, particularly autistic students who struggle with the conventions of a regular classroom. Her patience & guidance with every single student is something I admire and attempt to learn from her. In addition to her classroom, she leads our K-8 theater program, helping lead young actors and singers to find their way on the stage, and encouraging students behind the scenes as well, from techn to stage management with a fully student lead production each spring. She also tutors students before/after school to provide extra help to students that need it.
Outside the school building, she continues to give of herself to help where she can. She volunteers often at local events, and is a frequent volunteer at Disney's "Give the Kid's the World Village" events. She has lead her family and neighbors to host dinner for the homeless every year at Thanksgiving and on Christmas Day at a local church. And even now, she is now helping to cook special meals for a fellow teacher who was recently diagnosed with gestational diabetes. Please choose her for this honor!
Kelly Gratt – 4th Grade, Cypress Creek Elementary
I wanted to nominate Mrs. Gratt because she is a special teacher at Cypress Creek Elementary. First of all, she works with Mrs. Johnson (her homeroom partner) and together they make a great team. This year, due to covid, all meet the teacher's events were cancelled at the beginning of school. Mrs. Gratt and Mrs. Johnson personally made zoom calls to meet parents and introduce themselves. They were the only 2 teachers in the entire school that did this!! Second, they use technology with apps to keep parents up to date. One weekend, I sent a message about a homework problem and Mrs. Johnson called me at 7pm. I was not expecting such a fast reply and especially during non-school hours. Lastly. I feel Mrs. Gratt's classroom is special because her students are learning more than the standard math, science and English courses. They are learning about the real world. We live near rural farming areas where there is a lot of low income families. Mrs. Gratt has a system in place where kids learn about money. She "pays" her students with play money when they come to class and when they complete their work. She also charges her students "rent" for using their chairs and if they are redeeming their money for earned gifts. Each student has an actual pretend checking account where they learn to balance their checkbooks and stay up to date with their money. I think it's great that we have teachers who go above and beyond their classroom dutties to bring all they can for their students.
Susan Alamillo – 7th & 8th Grade, Turkey Creek Middle School
Susan goes out of her way to help families in need. One of many examples is her advocacy for Anthony, Jonathan and Isaiah. Their single mother was murdered about 5 year ago. Susan has been going to the home almost weekly to provide support to the grandmother and children. She brings food, clothes, helps with homework, housing issues, legal issues. She counsels the grandmother and children. She has been a true advocate for this family. She does this on her own time because she has a deep love for children and their families.
Another example is her mentoring of migrant students that have been awarded college scholarships. She helped the students apply and receive these scholarships in middle school. Now, she continues to meet with them regularly and provide them with support so that they may achieve their dreams of going to college and improving the lives of their families and of themselves. Susan provides afterschool tutoring to help students complete their homework and understand assignments. She coordinated a collaboration between high school and middle school students to support the homework program. Susan rarely talks about the impact she is having on the welfare of these students and families but I work with her so I see all that she does and I am amazed and awed by her dedication and support of families and their children. She is an inspiration and a wonderful candidate for this award.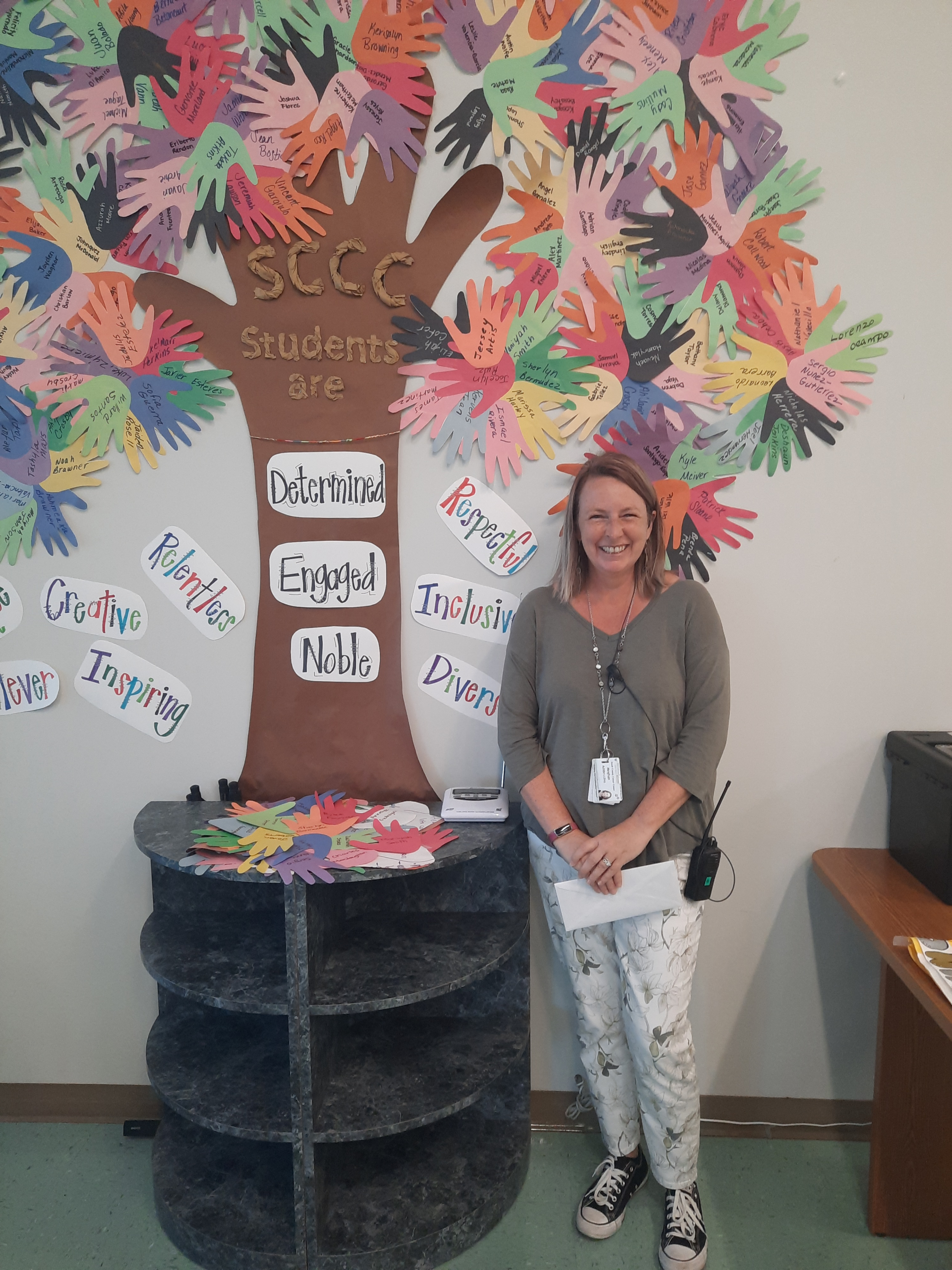 Megan Ambrosino – K-12th, South County Exceptional
Mrs. Ambrosino is the ESE Specialist Teacher for our Exceptional Center. The students who we serve are students in K to 12 who have severe emotional and behavioral disabilities. She implores all the qualities needed to teach students with disabilities being patient, caring, loving, kind, educational advocate. She helps out with every teacher, parent, staff members, and student in her department. She serves the most at-risk population of students from Brandon southward. She is the students biggest cheerleader and has the admiration of her peers and parents. She has been a highly qualified teacher for multiple years in our district. Mrs. Ambrosino is inflential to her peers, stduents, and parents. She has motivated other teachers to want to take on leadership roles within their department and encouraged paraprofessionals to take on additional learning opportunities. She is extremely reliable. Mrs. Ambrosino is the epitome of impassioned, selfless, and humble. She works with a population of students that most educators are unable to. She LOVES her kids and shows the ultimate care and concern about their education and overall wellbeing. She ensures they have a Christmas morning each year because of the high amount of students in the foster care system in her center classrooms. She buys snacks, toys, and school store without anyone knowing. She buys lunches constantly and loves to provide incentives when she sees good happening.
Shauna Kornegay – Strawberry Crest High School
It's an honor to nominate Mrs. K! Her drive and passion for teaching have inspired so many in our community. As a special needs teacher, her students are self-contained, away from other students their age, but that doesn't stop Mrs. K from flooding them with as many opportunities to promote their success as possible. She dedicated hundreds of personal hours developing and networking to broaden the reach and skills of her students, leaving lasting impressions in hearts of many.
As sponsor of SCHS' Crest Buddies program, Mrs. K and her students organized 6 school-wide events to promote friendships and disability awareness. She also coordinated 7 field trips and partnered with other schools in a Pen Pal exchange for her students. Additionally, to save the Backpacks of Hope program, Mrs. K and her Crest Buddies stepped up to help, broadening their skills through community service. Through this program, they purchase, package, inventory and deliver 31 food bags each week for needy students at Bailey Elem. Highlighted in the Plant City Osprey Observer ("Strawberry Crest Students Step Up To Feed Families", Dec 3, 2021).
To end the year with a bang, she raised $1100 in donations and put together a red-carpet prom for her 19-student class, creating a joyful time and lasting memories. In the aftermath of the grand event, Jennifer Sherrouse, fellow educator, writes "Shauna, may you be blessed for a thousand generations for the intentional love you pour out. You are incredible!